Gainesville, Texas is Totally Texas and All American.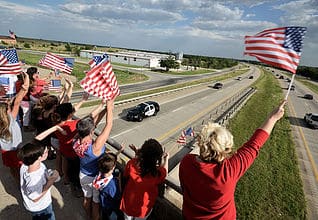 The Medal of Honor Host City Program is ingrained in the fabric of this community through and through. We have won the appreciation of the Recipients who have experienced Gainesville's small town, patriotic hospitality; many have returned over the years, and encouraged other Recipients to attend.
Since its inception in 2001, our Medal of Honor Host City Program has hosted 56 of the 66 living Medal of Honor Recipients who have inspired our community with their message of patriotism, sacrifice, courage and life values. From the youngest citizen to the oldest, this has been a labor of love. Our rallying cry has been, and continues to be, "It's What We Do!"
Medal of Honor Host City 2024 Schedule
Help support our nation's heroes, and become part of this wonderful Gainesville tradition!