The Medal of Honor Host City Program Park honors our Medal of Honor recipients and recognizes Gainesville as the only Medal of Honor Host City in America. A bronze eagle with the ribbon and Medals of Honor clasped in his talons majestically sits atop a granite monument listening intently to the cascading waterfall feature.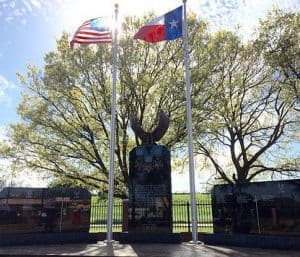 Here amongst beautiful gardens, landscaping, and park benches, one can pause to reflect, remember, and give thanks to those who bravely served our country.
This gateway into the city reminds everyone entering that Gainesville, Texas is indeed the Most Patriotic Small Town in America!  Patriotism shines brightly here, and you too can experience the true meaning of American pride when visiting this park. 
If you would like additional information on the Medal of Honor Park, please call 940-580-1828 or contact the Gainesville Area Chamber of Commerce 940-665-2831.
Medal of Honor Host City 2023 Schedule
Visit our online store to see how you can help support Gainesville's Medal of Honor Park